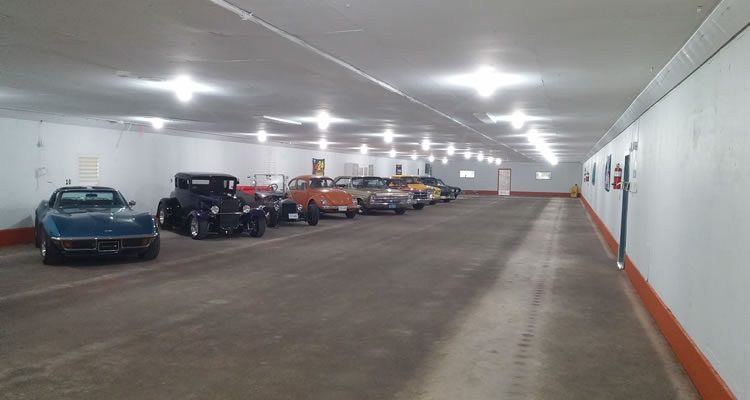 Indoor Car Storage In The Greater Victoria Area
Safely Store Your Hot Rod, Classic, Collector, or Exotic Cars.
Are you downsizing your home but not your toys?  Do you need secured, covered, storage for a special automobile or maybe a small collection of automobiles?  As Victoria, Sidney and Saanich all work towards more density it's the rise of new developments and sub-divisions that unfortunately don't have a lot of space for homeowners to store their toys.  There are many subdivisions in the area that have strict rules for the amount of vehicles stored in driveways, especially if they are uninsured.  If you have more than your daily driver, this could pose a problem.
Five Peaks Auto, Boat and RV Storage is a private and secure storage facility located on the Saanich Peninsula.  With over 50,000 square feet of available secured indoor storage space we can accommodate your motorcycles, hot rods, classic cars, collector cars or exotic cars.  We have open shared storage (warehouse style) or smaller, more private individual storage stalls available as well.
Indoor Covered and Secure Car Storage Greater Victoria, BC
Secure indoor storage for hot rods
Secure indoor storage for collector cars
Secure indoor storage for exotic cars
Secure indoor storage for classic cars
Our facility has a gated entrance and the buildings are monitored by a CCTV video surveillance system.  Inside our buildings you'll find clean concrete floors, good lighting, and a nice and clean, secure, spot to store your important vehicle.
We are conveniently located less than 5 minutes from the Airport and less than 5 minutes to the BC Ferries, which makes our storage facility an excellent solution for those who may travel frequently.
If you'd like to book your storage space for your special car please give us a call (250) 655-1035 or fill out our contact form and we'll get right back to you.